NJ Counties Put Under Additional Quarantine Restrictions Due To Spotted Lanternfly
As of late August 2020, several measures in New Jersey have been put in place to combat the novel coronavirus pandemic.
But in addition to all the COVID-19 measures, there's an additional quarantine restriction residents must follow, and it has nothing to do with the pandemic. Instead, it involves the spotted lanternfly in NJ.
Read on to find out more about this invasive bug and what precautions you must take if you live in or must travel to and from this state.
What Is the Spotted Lanternfly?
The spotted lanternfly is an invasive species originating from Asia. They originally made their way over to the United States back in 2014, when they hitched a ride on a shipment to Pennsylvania.
They're not harmful to you, your pets, or wildlife. However, they're a huge pest because they feed on a large number of plants, which can completely ruin gardens, and not to mention, crops as well.
The Spotted Lanternfly Quarantine
To reduce the spread of spotted lanternflies, the New Jersey Department of Agriculture has put several counties in NJ under quarantine: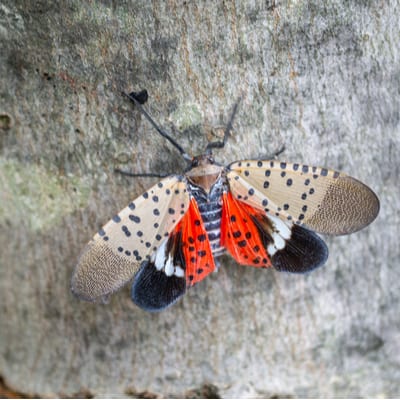 Burlington
Camden
Gloucester
Hunterdon
Mercer
Salem
Somerset
Warren
If you're located in any of the above counties, you need to thoroughly check your vehicle before driving it. Spotted lanternflies can't fly very far, but they're excellent hitchhikers. So to avoid transporting them further into areas that aren't infested, make sure to take that extra time to check your car for these pests.
Do note that the New Jersey Department of Agriculture and USDA-APHIS are moving through NJ and treating areas that are infested. If you're in an area with a large infestation, you may get a visit from their crews. They'll have proper ID, so always ask to see it.
These crews will only treat areas where active infestations are found. This will only be done on the tree of heaven, where spotted lanternflies like to gather on. It's also believed that they reproduce on this type of tree.
So if you have this type of tree on your property, be extra-vigilant, as it'll be an attractive home for these pests.
What to Do If You Think You've Seen Spotted Lanternflies
Have you seen spotted lanternflies on your property? If so, the New Jersey Department of Agriculture states you can try some home treatment options to eliminate them as best as you can. Make sure you don't use sticky traps, as you might unintentionally trap and harm wildlife.
Beyond the use of home treatment options, it is always recommended to call your local Pest Control company for a complete and thorough inspection. NJ Pest Control in New Jersey serves the counties of Morris County • Bergen County • Essex County • Passaic County • Union County • Sussex County • Warren County • Hunterdon County • Somerset County. The knowledgeable, highly-trained and experienced staff can assure you that the spotted lanternfly population is under control on your property, but can also inform you if you have any other type of pest or wildlife infestation.
NJ Pest Control will come up with an effective plan to treat your property and eliminate all pests and wildlife. Not only that, but we'll help you take other measures to keep them away.
Do Your Part in Fighting the Spotted Lanternfly in NJ
Now you know the quarantine measures for the spotted lanternfly in NJ. If you spot any, you can start with a home treatment option and also have a professional come inspect your property. This can help keep your home pest-free.
Have you seen these invasive insects or any other pests around where you live? If so, its time to take prompt action. Get in touch with NJ Pest Control if this is the case!